Outdoor 3D Archery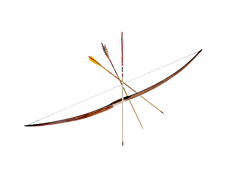 More information:
contact Joe Porwoll.
The 3-D archery course has various Reinhart targets set at distances between 13 and 80 yards with 3 elevated platforms. The 32-station league course runs from mid-April to mid-August. In addition, there is a warm-up area and long-distance shooting lanes.
Our League runs for 17 weeks. Teams may consist of two or three shooters, and each week the 16 targets that will be scored for league competition will be posted at the coarse entrance. DBCL Members, as well as non-members, are invited to participate.
Only one arrow per target, and as usual, ABSOLUTELY NO broad heads are to be used on our course.
The fee structure is as follows: General use of the course to ALL Members is now FREE. League fees are $5/week for members and $3/week for Junior members, 12 and under. Guests of Members are required to pay the $8\round fee. Payment envelopes and score cards are at the entrance of the course.
All Club Members using the 3-D course should remember to sign in the same way you do for any other range club facility. This enables us to know who is using the 3-D course, as well as aiding our Caretakers in locating members in the event of an emergency.
Note for league archers: please remember to completely fill out your score cards. This includes, your name, team name, date, week number, member or nonmember and final score. This will be a tremendous help.