Outdoor 3D Archery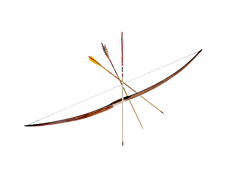 More information:
contact Kelly Kuchta.
Our Spring/Summer 10 week league. Teams may consist of two or three shooters, and each week the 14 targets that will be scored for league competition will be posted at the course entrance. DBCL members as well as non-members are invited to participate. The fee structure is $5.00/week for members and $8.00/week for non-members, junior shooters 12 and under is still only $2.00/week. Payment envelopes and score cards are at the entrance of the course.
Only one arrow per target and as always, absolutely no broad heads are to be used on our course.
DBCL Members using the 3D Course are no longer required to pay the $5.00/round fee, Junior Members are no longer required to pay the $2.00/round fee. This provision applies for all shooting other than league participation. League fees of $5.00 for members and $2.00 for Juniors apply only when participating in the Spring/Summer and Summer /Fall Leagues.Guests of members are required to pay the $8.00/round fee .
All Club Members using the 3D Course should remember to sign in the same way you do for any other range/club facility. This enables us to know who is using the 3D course as well as aiding our groundskeepers in locating members in the event of an emergency.
Note for league archers: Please remember to completely fill out your scorecards. This includes, your name, team name, date, week number, member or non member and final score. This will be a tremendous help.