AR15 League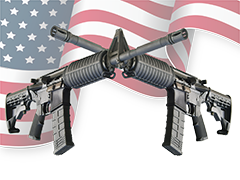 More information:
contact Tom LaChe.
AR-15 Match dates for the year 2019 (21th year)
Sunday May 19th – 11AM to 2PM
Sunday June 9th – 11Am to 2PM
Sunday July 21st – 11AM to 2PM
Sunday August 25th - 11AM to 2PM
(Banquet after last match in bar 2PM to 4PM)
Course of Fire for Combination Clay Target / Flying Cross Match
Rules of the event:
No indiscriminate rapid fire
Only AR-15 Rifles or their clones will be allowed for record scores
There will be six clay targets on a board at approx. 60 yards. One point per hit.
The object is to hit as many of the clay targets as possible while the flying cross is out of sight and can't be shot at, or during the run.
The flying cross will make two complete passes with a 4 second delay at each end.
The target on the cross is a 9"inch paper plate. One point per hit.
There is also a 4" paper plate on the cross. Two points per hit.
The combined scores of to the paper plate targets and clay targets hit will be the score.
There is no limit to magazine capacity. More than one magazine may be used.
The shooter will pay an entry fee of three dollars.
A shooter may enter as many times as he/she wants to record the best score.
Any type of sights is allowed.
Shooting will be done in the standing position only.
The event will take place on the auxiliary range.
Eye and ear protection is mandatory.
All un-cased rifles will be fitted with supplied safety flag except while competing.
Participants are encouraged to assist in running the match and get Running Deer certification.
Procedure-Individual:
The range officer instructs the shooter to load his rifle, waits until the shooter is ready, and then gives the RUN IT command. The first shot must be at the flying cross. The flying cross will be run out and back, then out and back again with a 4-second delay at each end. During the delays at the end of the run the shooter shoots at the clay targets. There is also a 4" plate on the cross. This target counts for two points. The total number of hits to the 9" plate and the clay targets hit count as one point each. When the flying cross returns for the second time, the range officer instructs the shooter to cease fire, unload the rifle and make the range safe.
Procedure-Two Man:
All of the above procedures apply except as follows:
Each shooter pays $3.00 entry fee.
Two shooters fire at the same time.
There must be at least one hit to the 4" plate for a score to count.