Return to Activities page.
A Girl And A Gun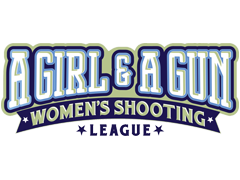 A Girl & A Gun (AG & AG) is a membership organization whose events have been successful stepping stones for thousands of women into the shooting community and fostered their love of shooting with caring and qualified instructors to coach them. AG & AG breaks barriers for women and girls in the area of self-defense and in pistol, rifle, and shotgun shooting sports by welcoming beginners to learn the basics of safe and accurate shooting and providing experienced shooters with advanced-level opportunities. The club has over 6,500 members in all 50 states and hosts recurring Girl's Nights Out at more than 190 ranges throughout the nation.
AG & AG hosts a National Training Conference at Cameo Shooting Center near Grand Junction, CO. This event welcomes nearly 650 people on site for a week of training sessions. Topics include shooting fundamentals, advanced marksmanship, concealed carry, vehicle defense, competition, archery, precision rifle, sporting clays, knife defense, gun maintenance, legal topics, and more.
Other national training events include all-women's Clays Extravaganza with events including sporting clays, 5-stand, trap, and training clinics for those new to shotgun sports. Sniper School is for women only at Cameo Precision Range in Grand Junction, CO allowing them to shoot out to 2,003 yards! Fall Fest is the only all ladies multigun match in the nation this is about enjoying our camaraderie, tackling fun and challenging stages in the natural terrain, welcoming new competitors, and growing a strong female presence in the 3-gun family.
The Kettle Moraine, WI chapter meets regularly 3 times per month with occasional special training events mixed in between utilizing Bear Arms in Mequon, Fletcher Arms Lake Country in Pewaukee and of course, Daniel Boone Conservation League.
If you are interested in becoming a part of this amazing organization, please contact Jill Marton.