Return to Activities page.
High Power Rifle Matches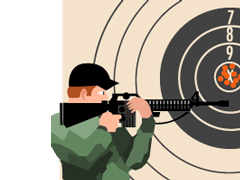 For more information about this league:
contact Dave Andrew or contact Randy Holterman
High Power Rifle
High Power Rifle has been shot in competition since the late 1800's with the famed National Matches at Camp Perry, Ohio the well-known focus of the shooting year.
A High Power match is shot from Prone, Sitting and Offhand (standing), with both slow and rapid fire stages. It often includes 50 rounds fired but can go up to 100.
Typically shot at 200-600 yards, we shoot on the 200 yard range with reduced size targets. (Learn to think of 200 yards as short range!)
The yearly DBCL New Shooters Match gives shooters a chance to try the sport.
DBCL members have the opportunity to just have fun shooting in local matches, or shoot at the State and National Matches including support of, and participation on, the WI State team at Camp Perry.
All matches are open to club members, guests, and non-members.
2022 Match Schedule, Click the links for details