Return to Activities page.
Indoor Archery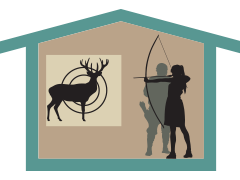 For more information about this league:
contact Jeff Larsen or contact Blair Rogacki.
Indoor shooting is possible all year round. Archers can use both paper targets and be properly trained to use the video archery equipment. General shooting is free to Members.
The Indoor Archery League is very popular and runs from October through March. The first 8 weeks uses paper targets and the last 8 weeks is video. Shooting is done at a maximum distance of 20 yards in the Clubhouse basement. There are no teams, just individual shooting for fun.
League fees are $5/wk, both member and non-member, to cover the cost of targets.