Return to Activities page.
Indoor Archery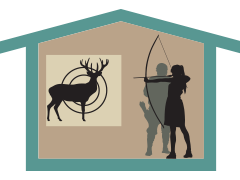 For more information about this league:
contact Blair Rogacki.
Indoor shooting is possible all year round. Archers can use both paper targets and be properly trained to use the video archery equipment. General shooting is free to Members.
The Indoor Archery League is very popular and runs from October through March. The first 8 weeks uses paper targets and the last 8 weeks is video. Shooting is done at a maximum distance of 20 yards in the Clubhouse basement. There are no teams, just individual shooting for fun.
Indoor Archery – Winter League 2022 - 2023
We're back for another winter gathering on Wednesday evenings for Indoor Archery League.
We will start with a brief 3-week starter league in December. The dates and times will be Wednesdays 12/7, 12/14 and 12/21 from 6pm-9pm. This will be include mix of traditional and electronic targets and will provide everyone a chance to become acquainted with the equipment and get the operation certification.
Second, starting in January 2023, we will be offering an 8-week Winter/Spring Indoor Archery League. This will consist of electronic targets, traditional paper targets and a bunch of just plain old fun stuff. The schedule will be Wednesday evenings from 6pm-9pm on the following dates: 1/4, 1/11, 1/18, 1/25, 2/1, 2/8, 2/15, 2/22, 3/1, 3/8, 3/15 and 3/22.
The cost will be $5 per shooter. Again, I will be available to provide operation certifications during the 12-week session, but kindly ask that you contact me in advance, so I can plan accordingly.
Indoor archery remains limited to traditional bow and arrow equipment, with future plans to adapt the range and equipment for crossbow shooters. Please stay tuned for information about this in the future.
For any questions, or to sign-up in advance, contact Blair Rogacki.