Return to Activities page.
Pistol Silhouette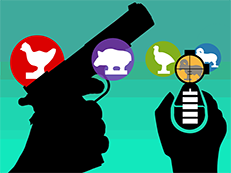 For more information about this league:
contact Martin Sutliff or contact Paul Frank.
Although no longer sanctioned by the International Handgun Metallic Silhouette Association (IHMSA), the program at Daniel Boone follows the rules and guidelines of that organization. Steel targets are set up at various distances, out to 200 meters, and shooters have two minutes to engage five targets and knock them over. The weights of the targets are such that the bullet must arrive at the target with sufficient weight and momentum to push the target over. For instance, fast .223's on the big bore targets don't consistently knock them over, and many times simply damage the targets. Targets for all the courses of fire are steel cut-outs of chickens, javelina, turkeys and Big Horn Sheep. Chickens are the closest target and are engaged first, followed by javelina (pigs), turkeys, and Big Horn Sheep (rams) at increasing distances. Each five shot string is separated by a brief cease fire of a few minutes. At the end of 10 shots, the line is made safe, and the targets are reset. Shooters must stand behind the red line, and no weapons may be handled during this time.
For an overall description of pistol silhouette, and a copy of the IHMSA rules, please go to IHMSA.org. Being a member of IHMSA is not required to shoot at DBCL.
Big Bore
There are four classifications for big bore. Production, Revolver, Unlimited, and Unlimited Any Sight. Production and Revolver are limited to weapons that are unmodified from factory configuration. The most popular Production gun is the Thompson Center Contender 10" break action single shot. Popular revolvers include the Dan Wesson series of revolver, Freedom Arms, and 8" Smith and Wesson to name a few. Popular cartridges for production and revolver include .44 magnum, 30/30, .357, 7MM TCU, and others. Factory loadings of 44 mag and 30//30 will take over the targets consistently, the same cannot be said for the .357 magnum. Hand loading is often necessary to get the heavier bullet weights for knock over power. Only iron sights are allowed.
Unlimited and Unlimited Any Sight are guns with barrel lengths out to 15". These are generally Remington XP100, Savage Striker, Thompson Center Contender 14", and other similar single shot pistols. Nearly all are wildcat cartridges that require hand loading. Some exceptions are the XP100 in 35 Remington, and the T/C Contender in 30/30 to name a couple. Unlimited requires the use of iron sights, and Unlimited Any Sight allows the addition of a scope, red dot or reflex sight.
In Big Bore, chickens are set at 50 yards, pigs at 100 yards, turkeys at 150 yards, and rams at 200 meters. Shooters may shoot standing, or prone (freestyle) in any safe position that does not provide an artificial rest for the pistol.
Field Pistol
There are two classifications for Field Pistol. Field Pistol and Unlimited Any Sight Field Pistol. The course of fire is shot standing. Only production guns are allowed utilizing a straight wall case, or a 22 Hornet. The targets are half size of the big bore targets. Meaning half the height and half the width. Typical cartridges are .38 and .357, 9mm Para, .44 M, 30 carbine, and similar. Pistols used include the T/C Contender and longer barreled revolvers.
In Field Pistol, the chickens are set at 25 yards, the pigs at 50 yards, the turkeys at 75 yards, and the rams at 100.
Small Bore
Small bore has the same classifications as Big Bore. The cartridge is limited to .22 Rimfire. It may be shot standing and prone (freestyle). Production guns are generally single shot T/C's or semi auto, including the Browning Buck Mark and the Ruger semi auto pistols. Revolvers are any production 22 RF revolver that generally has a 8" or longer barrel. Unlimited can be an Anchutz or similar bolt action or a 14" TC Contender. All the above are shot with iron sights. Unlimited Any Sight is any gun with an optical sight, including scope, red dot or reflex style sight.
In Small Bore, the chickens are set at 25 yards, the pigs at 50 yards, the turkeys at 75 yards, and the rams at 100.
Bordello
The Bordello course of fire is shot using Big Bore targets, at Field Pistol and Small Bore ranges. This is shot standing with any gun typically used for concealed carry. This may include 1911's, Semi Auto 9mm and .40 S&W with a 5" or shorter barrel. Any revolver with a 6", or less, barrel length may also be used. It is shot standing with iron sights. No sight settings are allowed.
Allowed variations to the course of fire
Since we are no longer sanctioned by IHMSA, the program chairs allow nearly any rifle, or pistol to be used on any of the courses as long as they are safe, and do not damage the targets. For big bore, we allow cast bullet rifles shot standing, or sitting off the bench, with or without sight adjustments. Open sights, or optics are also allowed. Jacketed bullets may be used out of a rifle if they are generally around 2000 fps, or less, and do not damage the targets. This could include a standard 30/30 hunting load or similar. The match directors will advise if a rifle/caliber combination will be allowed.
Pistol caliber carbines may be used on the Field Pistol, Bordello, or Big Bore, although a PCC cartridge will generally not have enough power to consistently knock down Big Bore targets past the pig line. However, turkeys and rams hit in the upper third of the target often will go down. A loaded to snot 10mm may take them over with more consistency, and we would love to see how a Hi Point 10mm Carbine works on the rams. Again, open sights or optics are allowed.
The cost to shoot a 40 round match in 2019 is $5.00 per gun. Help setting targets is appreciated, but not required.