Return to Activities page.
Biathalon Shootski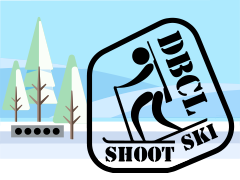 With long winters and a desire to still get out and shoot, an activity that's growing in popularity is Biathlon at DBCL - a combination of Shooting and Skiing - hence: ShootSki.
There are typically 4 to 5 events each winter, spread across January and February. Participants can use traditional cross-country skis, snowshoes, or just snow boots to travel around the endurance course. In between laps, participants shoot .22lr rifles at targets on the 100/200 yard range.
After working up a thirst on the course and the range, participants then gather in the clubhouse to 'rehydrate'. There are multiple divisions, and one event where participants are encouraged to wear fun costumes!