Return to Activities page.
Biathlon Shootski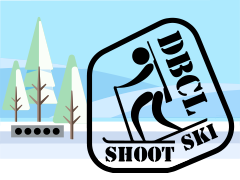 With long winters and a desire to still get out and shoot, an activity that's growing in popularity is Biathlon at DBCL - a combination of Shooting and Skiing - hence: ShootSki.
2023 Season ShootSki race dates
Every other Sunday:
January 8
January 22 - Lunar New Year & optional Team Relay (random teammate selection)
February 5
February 19
March 5 - Optional Costume Race & optional Team Relay (you get to pick the team!)
Setup begins at 7:30 with the first racers being released as soon as we're ready, after 8am. We'll have the range clear by 3pm, so please be ready to start no later than 2pm.
The fee to race will remain the same: $3 for a "Day Pass" and $10 for the season. You can pay for a day and then pay the difference if you decide to race all season.
A new feature this season will be the addition of the "ShushSki". Bring your suppressed, centerfire rifle with SUBSONIC ammunition!
The costume event will return to Race 5, but is incorporated into another new feature… an optional Team Relay division. You may choose your partner/teammate for this one. You can also race in costume as an individual if you're still in the hunt for championship points by race 5. Race 2 will also have the Team Relay option, but your teammate will be chosen at random.
Finally, only 4 of your scores will count towards the Division's Season Championship Points total to help making the decision whether to race as an individual or on a team a bit easier.
To help the participants train and prepare, you can view a shoot-ski training video.
For the returning racers:
Mass Start Men Summer Biathlon World Championships 2022
Mass Start Women Summer Biathlon World Championships 2022
We shoot into March, rain or shine, even without snow. Participants can use traditional cross-country skis, snowshoes, or just snow boots to travel around the endurance course. In between laps, participants shoot .22lr rifles at targets at 25 and 50 yards.
After working up a thirst on the course and the range, participants then gather in the clubhouse to 'rehydrate'. There are multiple divisions, and one event where participants are encouraged to wear fun costumes!