Return to Activities page.
Scouting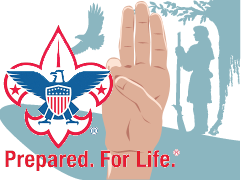 Daniel Boone Conservation League is the proud sponsor of Boy Scout Troop 110. The troop, a member of the Potawatomi Area Council, is currently looking for scouts.
Troop 110 is a great experience for youth - full of fun activities such as camping, hiking, fishing, and shooting. The Troop has its own bus, so every piece of equipment is always with them when going out on an event. The Troop has all their own tents, cooking gear, axes, saws, and fire building material needed for a fun outdoor adventure.
The Troop is old school in some ways: they only cook on open fires using charcoal for Dutch oven cooking, and all fires are started with flint and steel. They meet every other Monday 6:30 pm to 8:00 pm to work on merit badges and rank advancement. Over the years the Troop has had a lot of Eagle Scouts. The Troop uses the patrol method of organization, which promotes leadership skills for the scouts.