Return to Activities page.
Conservation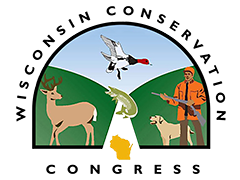 With "conservation" in our name, this is the fundamental purpose of our organization, guiding us in all of our activities. We are very active in the preservation of lands for outdoor recreation, which we do by carefully taking care of our facility grounds and extensive property. The vast majority of DBCL's 325+ acres are kept in a natural state of woods and wilderness, only partially accessible by nature trails and 3D archery.
DBCL is active with The Wisconsin Conservation Congress. This is the only statutory body in Wisconsin where citizens elect delegates to advise the Natural Resources Board, and the Department of Natural Resources, on how to responsibly manage Wisconsin's natural resources for present and future generations. DBCL is proud of our participation, and honored to have received the 2021 Local Conservation Club of the Year Award.
In addition, DBCL helps with Adopt-A-Highway where club members volunteer to clear our roadways of litter and pollution. Other conservation efforts include a strong role in supporting Hunter Education, and the training of proficient and ethical hunters.