Return to Activities page.
Outdoor 3D Archery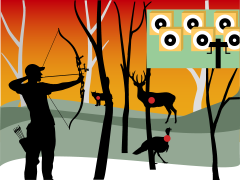 For more information about this league:
contact Joe Porwoll.
The 3-D archery course has various Reinhart targets set at distances between 13 and 80 yards with 3 elevated platforms. The 32-station league course runs from mid-April to mid-August. In addition, there is a warm-up area and long-distance shooting lanes.
3D Archery League - 2023
The 3D archery league will run from April 23rd through August 19th consisting of 18 rounds of competition. The course layout will be essentially unchanged with 32 targets, 16 of which will designate a round. The specific targets for each week will be posted on the bulletin board near the course entry. We will be using the Pacific Bow Butts field targets on August 20st and one prior evening to shoot round 18. This will provide an opportunity to enjoy some face-to-face competition. The only requirement for the league is all rounds must be completed by noon on August 19th, otherwise participants may complete rounds in sequence whenever they choose.
Scoring of total gross score will be tracked by 3-person team (top 2 of 3), Senior (over 65), adult male, adult female, teenager and child 12 and under. The targets are not suitable for crossbows or broadheads; however, a 30-point handicap will be applied for anyone shooting recurve or straight bows. First place winners in all categories will receive a trophy and their fees returned.
Please fill out the league entry form found on the website (DBCL.org) Bulletin Board and send to me preferably with the entire fee of $90 (members), $145 (non-members) or $50 (teenagers / children 12 & under).
All members may use the course without joining the league free of charge. A $10 fee for non-members when not participating in the league should be deposited in the cash box near entry to the course and must be accompanied by a member per club rules.
Season Setup
Course setup will be April 15th with rain day on the 22nd. Helpers meet at 8:00 a.m. in the lower parking lot to assist and earn work hours.
Season Results - 2022
The 2022 3D Archery league is now complete, results are now available.
The Course
Only one arrow per target, and as usual, ABSOLUTELY NO broad heads are to be used on our course.
All Club Members using the 3-D course should remember to sign in the same way you do for any other range club facility. This enables us to know who is using the 3-D course, as well as aiding our Caretakers in locating members in the event of an emergency.
Note for league archers: please remember to completely fill out your score cards. This includes, your name, team name, date, week number, member or nonmember and final score. This will be a tremendous help.
See you on the course and have fun!
Important links: