Return to Activities page.
22 Rifle Silhouette League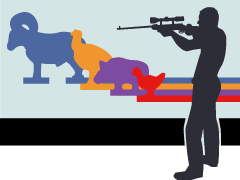 For more information about this league:
contact Randy Metzger.
Ten targets are fired upon from each of four ranges. 10 Chickens at 40 meters, 10 Pigs at 60 meters, 10 Turkeys at 77 meters, and 10 Rams at 100 meters. Targets are fired in banks of five from left to right. Shooters will have a 15 second loading period followed by 2 minutes, 30 seconds to fire upon each bank of 5 animals. Targets shot out of sequence are counted as misses. Targets must be completely down to count as a hit.
All shooting will be performed offhand with no support. All rifles must conform to current NRA Silhouette Rules. Standard (Heavy rifles) may not exceed 10 lbs. 2 oz. Hunting (Light) rifles may not exceed 8 ½ lbs or have a trigger pull of less than 2 lbs. Additionally, light rifles must be factory production rifles with a sporter style contour barrel. Heavy jackets, palm rests, slings, etc. may not be used for support. Only 22 LR standard and high velocity ammunition may be used. Stingers and other hyper-velocity ammo are not permitted.
Shooters must complete 10 league matches to qualify for league awards. Again, this year, there will be a total of 11 league matches. Any competitor who enters 11 record scores will have their lowest score dropped from the final standings. Competitors may shoot ahead or back time permitting. Competitors may not enter more than twice per class at any single match, unless otherwise approved by the Range Officer.. All firing will be done for record. No practice rounds will be conducted other than sighting in at approved non match targets.
Safety is our primary concern on the range. There will be NO HANDLING OF FIREARMS AT ANY TIME WHEN THE RANGE BELL IS ON. Hearing and eye protection is required. Open Bolt Indicators will be used on the firing line and anytime that a "Ceasefire" is in effect. OBI's are available at the matches for a fee of $2.00.
So… If you have a little rifle with a big scope, come out and join us!
All matches are held on Mondays from 4:00 pm to 8:00 pm at the 100-200 yard range.