Return to Events page.
Annual Picnic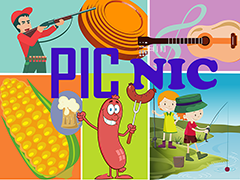 A highlight every year for members and the local public is the DBCL Summer Picnic. There are shooting opportunities on most ranges and the trap fields are open, so bring your guns and ammunition. Also bring your fishing poles for the pond.
A live band provides musical entertainment, while people enjoy themselves taking part in numerous games, and feasting on the delicious food. We have a beer trailer and other beverages to quench your thirst after shooting.
In addition, we have raffles and a bake sale, so you can treat yourself to a dessert.