Return to Events page.
Children's Christmas Party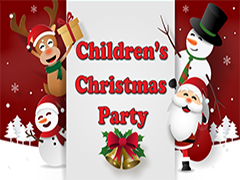 Every year the main hall of the clubhouse is decorated for the Christmas holiday and a party is held for the children. Snowmen and Santa's are on display, along with a Christmas tree. Santa and his sleigh are usually on hand to welcome the kids, treats are available for everyone.
This event has been held for nearly 50 years, and often has over 50 children participating. Getting a picture taken with Santa is a highlight for kids of all ages! It is simply a great way to start the Christmas season every year.