Return to Events page.
Wild Game Dinner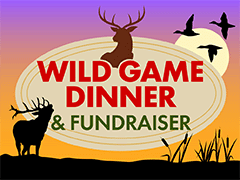 The Wild Game Dinner is typically held in the middle of March, watch this page for more information.
A highlight the DBCL calendar of events for nearly 20 years is the annual Wild Game Dinner & Fundraiser. The menu obviously includes wild game, along with other delicious food items and beverages. Location is often a local banquet hall.
With this being the biggest fundraiser for DBCL, we typically have hundreds of people attend. Besides the food there a large number of Silent Auctions, Bucket Raffles, Gun/Bow/Optics Raffles, a Meat Raffle, and several other special raffles.
The main feature of the event is the Vocal Auction for great activities and trips. This includes resort vacations, sporting event packs, restaurant packages, and numerous hunting trips. Some of the hunt trips are local, but others are in other states as well as other countries - for example: Africa, New Zealand, and Canada.