Return to Events page.
Milwaukee Journal-Sentinel Sports Show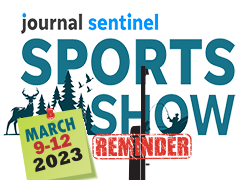 Daniel Boone's booth at State Fair Park is one of the largest at the show with eight shooting lanes and requires 160 positions to staff the event. Our booth draws the largest number of attendees to the show and is a welcome attraction.
The show typically runs the 2nd weekend of March.
We get to showcase our commitment to the community that our sport is fun and safe for all ages. We do have a lot of interest as to what Daniel Boone has to offer.
The event is held beginning of March. Recruiting for the event starts in December. Members that volunteer will get free entrance to the show. Don't worry if you've never done this before, our experienced members will get you up to speed in no time.
This is a great, warm and easy way to earn work hours.
For more information, contact Jay Brown or contact Jim Baron.