Return to Events page.
Gun Show and Swap Meet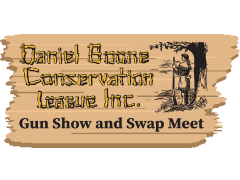 Once or twice a year, generally spring and fall, the club hosts a Gun Show for members to pedal, trade, and barter their firearms, hunting equipment and other outdoor items no longer needed or desired. Up to 44 tables fill both the main hall and basement areas while our Boy Scouts sell coffee, doughnuts, hamburgers, hot-dogs, and brats in the bar area. Reservations for tables at either show will begin as soon as the advertisement appears in your Powderhorn.