Return to Events page.
Pumpkin Patch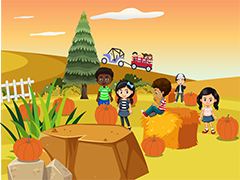 October - Boones' Pumpkin Patch is held annually on an October Saturday. We have a field of pumpkins for the children or grandchildren of members to pick and take home.
We start at the old trap house and ride over to the patch in carts. Then we go over the bridge, through the spooky woods and past the graveyard to find the pumpkins! After choosing special pumpkins, we return to enjoy refreshments, treats, and perhaps sit around a fire in cooler weather to warm ourselves.