Return to Facility page.
25-50 yard Range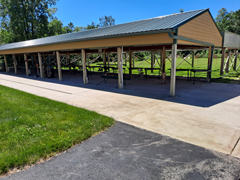 This range is for shorter range rifle or longer range pistol shooting. Almost any rimfire, centerfire, black-powder, or high-power air pistol or rifle is allowed, so long as it fires a single projectile. Shotguns are also allowed, but only for shooting slugs or sabots.
Shooters attach targets to provided wooden stands at either 25 Yard or 50 Yard distances. The shooting stations are fully covered by a roof with additional shooting baffle structures.
Numerous shooting stations provide benches, bags, and rear racks for storage of unloaded long-guns. Shooting stations have overhead lights for better vision and bell/light warnings for going down range.