Return to Facility page.
Trap and Skeet Field
There are five (5) trap fields and one Skeet field available for member use. Of the five trap fields, one has a "wobble" feature, and another enables shooting of "doubles". In addition, there is a 5-Stand Sporting Clays trailer supported with several other target throwing machines for use at select events.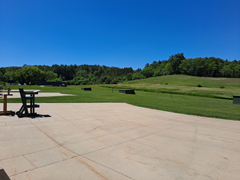 For members, push-button "pull" cords and voice-activated controls are available for trap and skeet. These, as well as clay targets, are obtained from the resident Caretaker or others volunteering at times. Members can use the trap and skeet machines whenever the club is open once they've had training.
There is also a dedicated Patterning Board area available that allows both steel and lead shot. This area is for patterning of trap/skeet/clays loads as well as Turkey loads and larger shot sizes.