Return to Facility page.
Handgun Range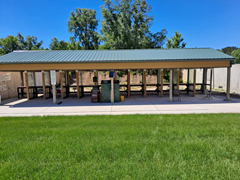 This range features 12 individual shooting stations, separated by ballistic glass and fiberglass barriers. Shooting stations have overhead lights for better vision and bell/light warnings for going down range.
The shooting stations are fully covered by a roof with additional shooting baffle structures. The roof system also includes acoustic-absorptive material to lessen the noise levels for shooters and neighbors.
Currently, targets use a hanger system allowing shooting at 7, 10, and 12 yard distances. This will be replaced in Summer of 2022 with a hand-crank system enabling shooting at any distance up to 40 feet.
This range is reserved exclusively for the use of handguns - i.e. no shouldered firearms are allowed.