Return to Facility page.
Clubhouse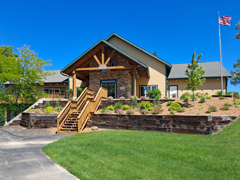 The focal point of the facility and activities is our spacious clubhouse. The structure features a large main hall for meetings and events. It can also be rented by members for receptions and activities.
The clubhouse has a bar area that, when open, serves beer, wine, soda, water, pizzas, and other snacks. There is also a large wrap-around exterior deck with tables and chairs as well as large umbrellas to shield the summer sun and propane heaters to cut the chill of fall and spring evenings.
The lower level features a check-in counter for clays leagues as well as indoor range for both archery and air pistol/rifle shooting and leagues. This includes a video archery system for more "real world" archery shooting. Members can use the video archery system once they've received training.
There are stairs and an elevator between the upper and lower levels, with restrooms on each level.