Bulletin Board Post
Hwy 167, Yet Another Detour
Please be aware of yet another detour!
Holy Hill Rd/Hwy 167 will be closed, beginning 10/21, just west of Hwy 41, for upgrading of the rail road crossing and road widening.
Length of the closure is unknown at this time.
You will not be able to access Hwy 41 going east on Holy Hill Rd/Hwy 167. You will not be able to exit Hwy 41 at Holy Hill Road and go west.
The posted detour for traffic is to use Highway 175, Freistadt Road and Fond du Lac Avenue.
For access to/from Hwy 41 from the south, the Lannon Rd. exit and Hwy 175 are probably the best option.
Last updated: 10/20/2019
Bulletin Board Post
Sight-in Clinic 2019 and Raffle - Public Welcome
Public welcome!
Sight-in dates:
November 9 & 10, 8:00am - 4:00pm
November 13 - 16, 8:00am - 4:00pm
November 17, 8:00am - 3:00pm
Hot food and snacks available Saturdays & Sundays. Last call for sight-in tickets 30 minutes before closing.
Shoot at either of our two running deer targets.
Sight-in or practice with your firearm.
Have our pro's sign-in your firearm.
Open to the public!
For more information, see the Sight-In Clinic & Raffle Flyer, or contact Randy Metzger, or contact Dick Heiden.
Members
I'd like to call for volunteers, especially for help with food and snack preparation and serving! Please contact Randy Metzger or contact Dick Heiden if you are able to help.
Please remember that some of the ranges will be dedicated to sight-in clinic use only. For more information, see the Facility Availability flyer.
Raffle
Drawing to be held November 17th 6:00 pm in DBCL clubhouse.
1st prize: Tikka T3x Lite 6.5mm Creedmoor
2nd prize: Beretta A 300 Outlander 12ga.
3rd prize: CZ 75B SA Ambi 9mm
4th prize: 24 gun safe
Tickets: $2 each, 3 for $5, 7 for $10, 15 for $20. Must be 18. No need to be present to win. All prizes must be claimed within 60 days.
Last updated: 10/01/2019
Bulletin Board Post
Hwy 167 open at Hwy 164 - Hwy 164 partially open
(updated Monday 09/30/2019 10:05 am)
The intersection at Hwy 164 and Hwy 167/Holy Hill Rd. is open (new round-about, by Bilda's pub).
Hwy 164 South of Hwy 167 to County Line Rd./ "County Q" is open.
Hwy 164 North to "County E" remains CLOSED through mid-October.
The detour signs posted on the alternate routes indicating Daniel Boone with arrows are posted to assist.
To help get around the construction, download our Construction Map flyer (rev 3).
For pictures and news on the Wisconsin DOT news page, visit the Wis 164 and Wis 167 Roundabout page, then click ***Project Update*** near top of page.
Last updated: 09/30/2019
Bulletin Board Post
Updated Facility Use & Safety Procedures (2019)
August 2019 version of the Facility Use & Safety Procedures manual is located under Safety & Policy and also available in our Online Facility Use & Safety Procedure Guide.
Last updated: 09/03/2019
Bulletin Board Post
Fall Sporting Clays League
A change from previous years, our fall league will now be both Wednesday and Thursday 5 to 8 pm. Both 5 Stands will be open for shooting on Wednesday, meanwhile closed on Thursday. This is necessary to allow for shooting wobble trap Thursday on the same field.
There will be a total of 5 different events, 2 of the 5 Stands, trap doubles, sliders, and 27 yard Trap. The league will be 8 weeks in which time you will need 10 scores, two in each. The 5 Stand and the wobble trap are the only events that are day specific, all the other events can be shot either day. See you there!
Last updated: 08/26/2019
Bulletin Board Post
2019 Daniel Boone Conservation League Officers and Board Members
An illustrated guide to your Officers and Borad Members.
Also available as a PDF file.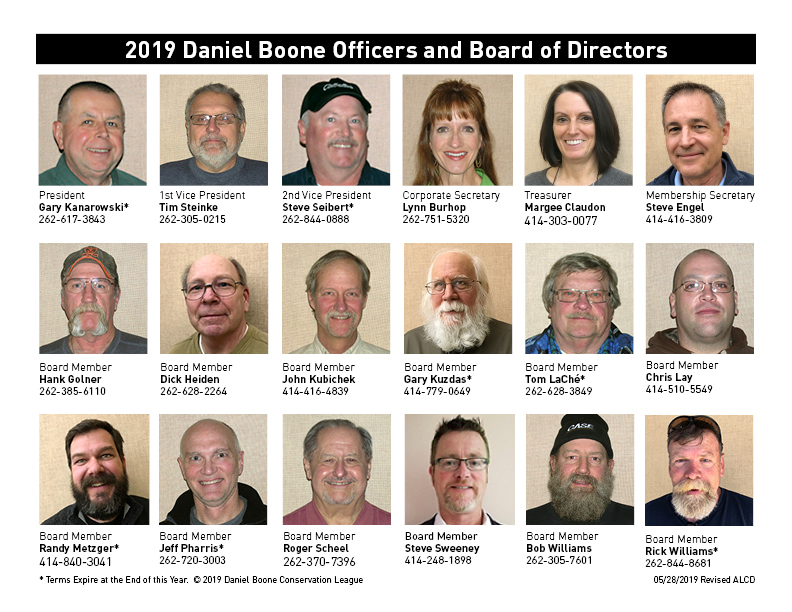 Last updated: 05/28/2019