Bulletin Board Post
DBCL Work Day September 7
Attention all Members, Save the date!
The next Daniel Boone Conservation League Work Day will be held on the grounds Saturday, September 7, from 8:00am to completion of all maintenance work items.
Note: ALL RANGES WILL BE CLOSED until we are finished. ALL RANGES!
Here's a good chance to get in some work hours and help out the club and your fellow members. The more volunteers we have, the faster things will get done. Many general cleanup, fix up projects are on the list. So plan to attend and lend a hand.
Bring gloves, hats, safety glasses, work boots, long sleeve shirts, insect repellent, string trimmers, chain saws, rakes, shovels, hoes, brush cutters.
Remember to sign in when you get there, and sign out before you leave. If you don't sign out, you won't receive your work hours.
Let's keep this Club looking awesome!
Last updated: 08/19/2019
Bulletin Board Post
MJ Gunsmithing Demo Days rescheduled
Calendar Revision
Please note the activity MJ GUNSMITHING DEMO DAYS, RIFLE has been moved from Saturday Aug 31 to Saturday Sept 14, 9-5, on the Auxiliary Range.
Last updated: 08/08/2019
Bulletin Board Post
Hwy 167 closed at Hwy 164 - Road Construction
The intersection at 164 and 167 is closed (by Bilda's pub).
You need to enter the club from the west.
Get to Highway CC or County Road K and 167 and head east toward the club.
The detour signs posted on the alternate routes indicating Daniel Boone with arrows are posted to assist.
To help get around the construction, download our Construction Map flyer.
Last updated: 06/21/2019
Bulletin Board Post
Archery Deer Hunting Application - 2019
Applications are now being accepted for DBCL members interested in archery deer hunting on the club grounds.
Application: 2019 Archery Deer Hunting
Last updated: 06/11/2019
Bulletin Board Post
2019 Daniel Boone Conservation League Officers and Board Members
An illustrated guide to your Officers and Borad Members.
Also available as a PDF file.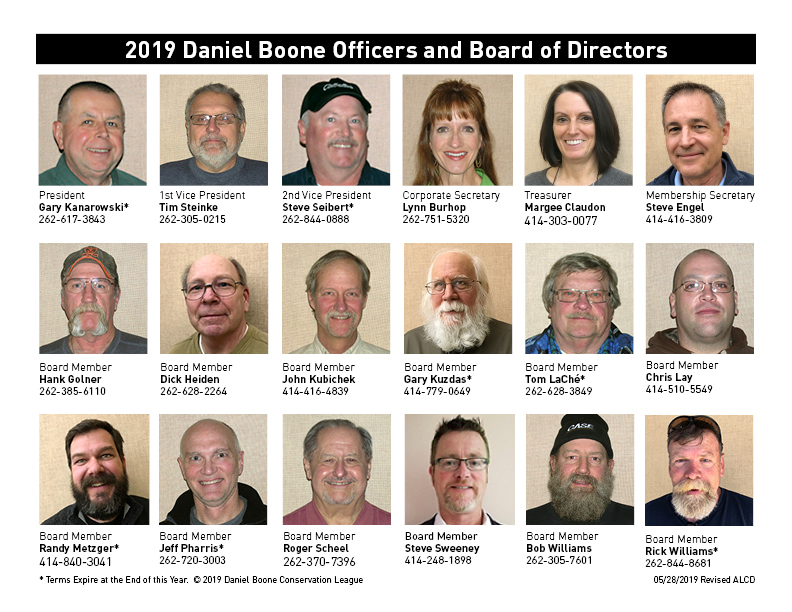 Last updated: 05/29/2019
Bulletin Board Post
Updated Facility Use & Safety Procedures (2018)
NEW 2018 version of the Facility Use & Safety Procedures manual is located under Safety & Policy and also available in our Online Facility Use & Safety Procedure Guide.
Last updated: 03/20/2019
Bulletin Board Post
Daniel Boone Conservation League 90th Anniversary is here
A small group of members have taken on the task of creating a history book covering 1989 through 2019.The Original DBCL HISTORYBOOK that covers 1929 through 1988. If you have something to contribute we want it. Our goal is to have this published by the picnic so I'm asking you to begin working on your articles asap. If you have any questions please feel free to contact us I'll include contact at the end. Thank you in advance for your contributions. Here is to at least another 90 years for DBCL. Please submit all articles to contact Chris Lay or contact MarySusan Diedrich.
Last updated: 03/20/2019
Bulletin Board Post
Paving project at Boone is complete
The paving project is complete. Ranges are now open !!
DO NOT DRIVE ON THE NEW BLACKTOP !!!
Last updated: 10/18/2018