Bulletin Board Post
Fall Sporting Clays Final Results
The final results for the season are available, browse to the summary sheet.
Steve Siebert was our top shooter overall with wins in slilder's, long bird, wobble, and doubles. Justin Cichoski prevented Steve from making a clean sweep by being the top 5 stand shooter.
Thanks to all who participated and we will have to work to dethrone Mr. Siebert next year!
Last updated: 11/23/2020
Bulletin Board Post
Ugly Sweater 5 Stand Flurry Shoot
2nd Annual Ugly Sweater 5 Stand/ Flurry Shoot.
Members and non members welcome.
December 20th @10:00 am - 3:00 am.
Prizes for top 5 Stand score, top 5 flurry shooters and ugliest sweater.
Bar open from 11:00 am - 3:00 am.
Last updated: 11/02/2020
Bulletin Board Post
Reminder, COVID-19 Notice
Reminder:
Please remember to social distance, use hand sanitizer and wash your hands!
To all DBCL members:
DBCL has fully re-opened as of Wednesday, June 3rd.
Following the June 2nd Special Board Meeting, the following was unanimously approved:
The CLUB officially opens, Wednesday, June 3rd.
Guests are welcome.
Regular hours will be observed: 8am-dusk, or when the parking lot lights turn on.
Please respect the Caretaker's hours, 8am-6pm, by NOT disturbing them after 6pm.
July 7th General meeting is scheduled to take place outside, lower level near the building.
2020 Picnic has been cancelled.
Matches, Shoots, and Leagues
Will officially open on June 15th.
There will be no changes to the calendar; what is behind us is done!
Follow COVID safety rules if applicable for your match.
Social distancing is still in effect!
If you feel sick or have viral symptoms, PLEASE STAY AT HOME!!!
ONE single money handler is required and MUST wear gloves.
If the bar is used, the following is mandatory:

you MUST have a bartender who will be the ONLY ONE allowed behind the bar.
Bartender must wear gloves and wipe down surfaces as needed during bar time.
Masks are optional.
Must use a new cup every time for single served beers; those with pitchers can use their same cup.
Since some chairs will be removed from the bar and the tables re-adjusted, you are welcome to use the deck and any tables that may be set up in the main hall for social distancing of 6'.
Welcome Back!
Tim Steinke
President
Last updated: 10/22/2020
Bulletin Board Post
25 and 50 year Membership Pins
The following members will be presented with their 25-year and 50-year Daniel Boone Conservation League Membership Pins at the October 6th, 2020 General Meeting.
If you know or see them, please encourage them to come to the October meeting.
The 50-year group have been asked to share some interesting anecdotes about the club.
Members that joined in 1970
Esser, Thomas R.
Foshey, Richard
Scheel, Roger
Shilling, Richard A.
Zimmermann, Kurt
Members that joined in 1995
Baylis, Ellis G
Bespalec, Dale A
Brandner, Rock R
Dauss, James F.
Gale, Michael H.
Giovannetti, Byron E
Harris, H. Dick
Hartman, Larry C
Lewis, Jeffrey S
Merten, James
Oberbeck, William K.
Palese, Jr., John A.
Reed, William H.
Shotton, Kenneth E.
Strobel, John M
Last updated: 09/16/2020
Bulletin Board Post
2020 DBCL Officers and Board Members
An illustrated guide to your Officers and Borad Members.
Also available as a PDF file.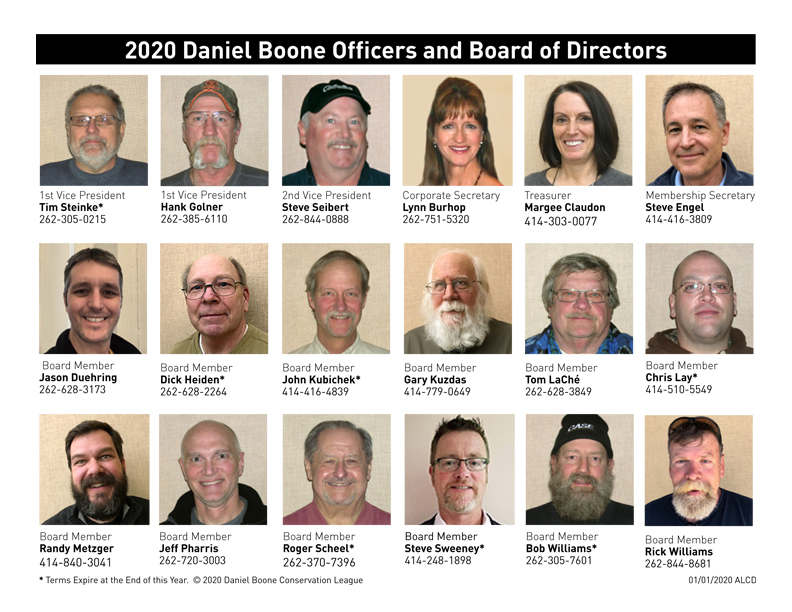 Last updated: 01/29/2020
Bulletin Board Post
Updated Facility Use & Safety Procedures (2019)
August 2019 version of the Facility Use & Safety Procedures manual is located under Safety & Policy and also available in our Online Facility Use & Safety Procedure Guide.
Last updated: 09/03/2019