Bulletin Board Post
Vintage Military Rifle Match August 20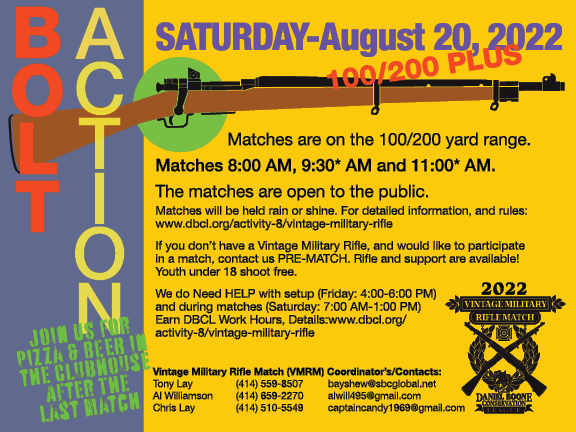 Bolt-Action 100/200 Plus.
Saturday, August 20, 2022
Matches are on the 100/200 yard range.
Match Time: 8:00 am, 9:30 am * and 11:00 am *.
* Estimated times
These Matches are open to the Public.
Matches will be held rain or shine.


If you don't have a Vintage Military Rifle, and would like to participate
in a match, contact us PRE-MATCH. Rifle and support are available!
Youth under 18 shoot free.
We do Need HELP with setup (Friday 8/19: 4:00 pm to 6:00 pm)
and during matches (Saturday 8/20: 7:00 am to 1:00 pm)
Join us for pizza and beer after the last match!
For more information:
contact Tony Lay, contact Al Williamson or contact Chris Lay.
Last updated: 08/15/2022
Bulletin Board Post
Road Closure Hwy 167
Hwy 167 (Holy Hill Rd.) from Hwy 175 to Hwy 164 will be closed for resurfacing starting Monday July 11, 2022. For those coming to DBCL from the east, possible alternative routes include County Hwy Q (County Line Rd) to the south, or Pioneer Rd. to the north.
Information from the Wisconsing DOT website:
PROJECT OVERVIEW
The purpose of the project is to address the deteriorating pavement condition and extend the service life of WIS 167. The last highway rehabilitation project covering this 3.5-mile segment of WIS 167 occurred in 1997, which consisted of resurfacing and reconstruction of areas throughout the project limits. The anticipated work of this upcoming proposed resurfacing project includes:
- Pavement base patching
- Asphaltic milling and resurfacing to place a new layer of asphalt on the roadway
- Guardrail replacement and slope grading in guardrail areas
- Potential minor culvert repairs
TRAFFIC IMPACTS
During construction, WIS 167 is anticipated to be closed to through traffic utilizing a detour route. The roadway will remain open to businesses and residents.
SCHEDULE
Mid-July to Early September 2022
Last updated: 07/15/2022
Bulletin Board Post
Auxiliary Range is closed
Auxiliary Range is closed until further notice due to work on the retaining wall.
Last updated: 07/11/2022
Bulletin Board Post
New Member Safety Briefing
NEW MEMBERS...
Upon joining DBCL, all new members are required to attend a New Member Safety Briefing (NMSB).
Effective July 1st, 2022, no new member may use the DBCL grounds or facilities until after they have attended a NMSB. This decision was made by the DBCL Board of Directors at the June 20th meeting.
New members had previously been given up to 90 days to attend a NMSB but were to ensure they followed the DBCL Facility Use & Safety Procedures in the interim. This policy has recently changed.
Jeff Pharris
President - DBCL
Last updated: 06/29/2022