Bulletin Board Post
5-Stand Flurry Shoot July 26
July 26th will be our final 5 Stand shoot prior to our Fall Sporty's league. Time will be from 10:00 am - 2:00 pm. Cost is $8.00 for a round of five stand and $5.00 for those individuals hoping to shoot a flurry. Members and non-members welcome! Bar will be open for sale of after shooting refreshments for those who desire.
Last updated: 07/08/2020
Bulletin Board Post
Summer Trap and Skeet to commence June 17th
Summer Trap League Changes
Starting June 17th our shortened 10 week summer Trap/Skeet/H&C League starts.
All shooting pricing and league fees will remain unchanged from last season.
Shooters will be required to shoot 3 scores by week 3 to establish handicap/be placed in appropriate division.
For those interested in shooting 5 Stand or Flurry, you will have two chances to do so: June 21st and July 26th are Sunday fun shoots for those wanting to break the bonds of traditional trap and skeet.
Our Fall Sportys will back up directly to summer league and will run 10 weeks, shot on both Wednesdays and Thursdays; a change from previous years. Hope to see you there!
For the sake of social distancing/reducing the risks with signing up for league; outside, underneath the overhang attached to the clay pigeon building, we will have 2 lines set up. One line will be for sign up and the other will be for selling shooting cards. This will be done in order to minimize the number of people inside the club at any given time. Secondly, if you could pay for both sponsor fees and shooting cards with either CHECK or CASH it would be much appreciated.
Last updated: 06/15/2020
Bulletin Board Post
2020 Application For Archery Deer Hunting
Applications are now being accepted for DBCL members interested in archery deer hunting on the club grounds.
Drawing to be held August 17th, undrawn slots awarded on a 1st come 1st served basis.
Application: 2020 Archery Deer Hunting
Last updated: 06/10/2020
Bulletin Board Post
DBCL has officially re-opened, COVID-19 Notice
To all DBCL members:
DBCL has fully re-opened as of Wednesday, June 3rd.
Following the June 2nd Special Board Meeting, the following was unanimously approved:
The CLUB officially opens, Wednesday, June 3rd.
Guests are welcome.
Regular hours will be observed: 8am-dusk, or when the parking lot lights turn on.
Please respect the Caretaker's hours, 8am-6pm, by NOT disturbing them after 6pm.
July 7th General meeting is scheduled to take place outside, lower level near the building.
2020 Picnic has been cancelled.
Matches, Shoots, and Leagues
Will officially open on June 15th.
There will be no changes to the calendar; what is behind us is done!
Follow COVID safety rules if applicable for your match.
Social distancing is still in effect!
If you feel sick or have viral symptoms, PLEASE STAY AT HOME!!!
ONE single money handler is required and MUST wear gloves.
If the bar is used, the following is mandatory:

you MUST have a bartender who will be the ONLY ONE allowed behind the bar.
Bartender must wear gloves and wipe down surfaces as needed during bar time.
Masks are optional.
Must use a new cup every time for single served beers; those with pitchers can use their same cup.
Since some chairs will be removed from the bar and the tables re-adjusted, you are welcome to use the deck and any tables that may be set up in the main hall for social distancing of 6'.
Welcome Back!
Tim Steinke
President
Last updated: 06/03/2020
Bulletin Board Post
New Handgun Classes - Ladies, Youth
More information:
contact Steven Key or contact Steven Dasher.
We have created 2 new handgun classes: Ladies Only, Youth
Ladies Only Class
New 2020
Ladies only
Any type of gun or caliber
Open-Iron sights only
Ladies have the option to compete in regular divisions if they choose
Standard course of fire
Normal match targets
Youth Class
New 2020
Up to 15 years old
Parents must be present
Any types of gun or caliber
Open-Iron sights only
Last updated: 02/04/2020
Bulletin Board Post
2020 DBCL Officers and Board Members
An illustrated guide to your Officers and Borad Members.
Also available as a PDF file.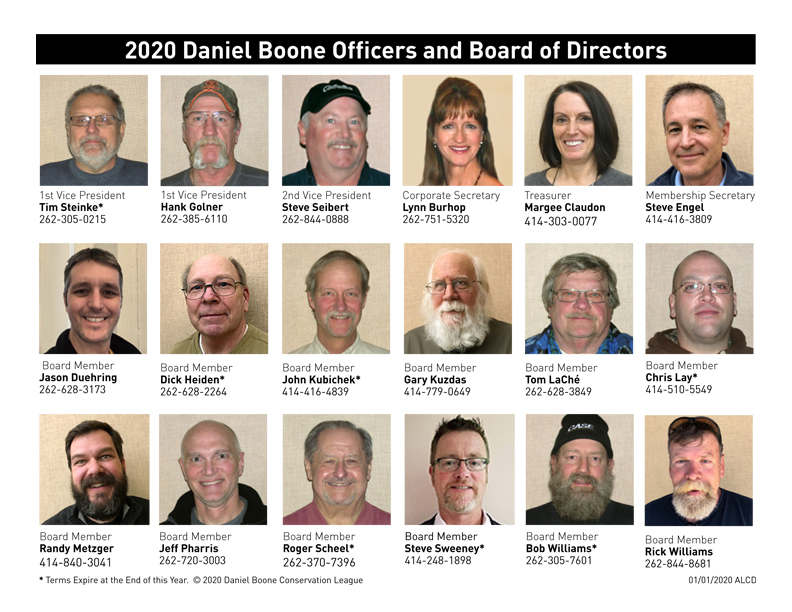 Last updated: 01/29/2020
Bulletin Board Post
Updated Facility Use & Safety Procedures (2019)
August 2019 version of the Facility Use & Safety Procedures manual is located under Safety & Policy and also available in our Online Facility Use & Safety Procedure Guide.
Last updated: 09/03/2019