Bulletin Board Post
Wild Game Dinner and Fundraiser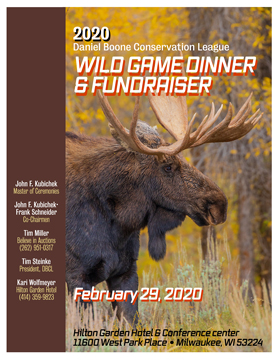 The fifteenth DBCL Wild Game Dinner and Fundraiser has been scheduled for Saturday, February 29, 2020. This event will be held at the Hilton Garden Hotel & Conference Center, 11600 West Park Place Milwaukee, WI.
Updated 02/21/2020:
A full description of the event, including: schedule, menu, exhibitors, and auctions items is in the DBCL Wild Game Dinner & Fundraiser Event Flyer.
Updated 02/02/2020:
Now availble: Wild Game Dinner Registration Form.
Last updated: 02/22/2020